As we wrap up Women's History Month, here is a look back at what has been a busy and exciting March for IWL.
On March 1, IWL welcomed back alumnae to a special event in honor of the College's bicentennial — "March Forward: Celebrating the Women of Nichols." It has been 40 years since women joined the Nichols campus as students, and it felt the perfect time to celebrate all of their accomplishments and stories. The day began with a networking breakfast during which alumnae, students, and faculty/staff caught up with old friends and connected with new ones. On display were a series of trade-show style panels of images, q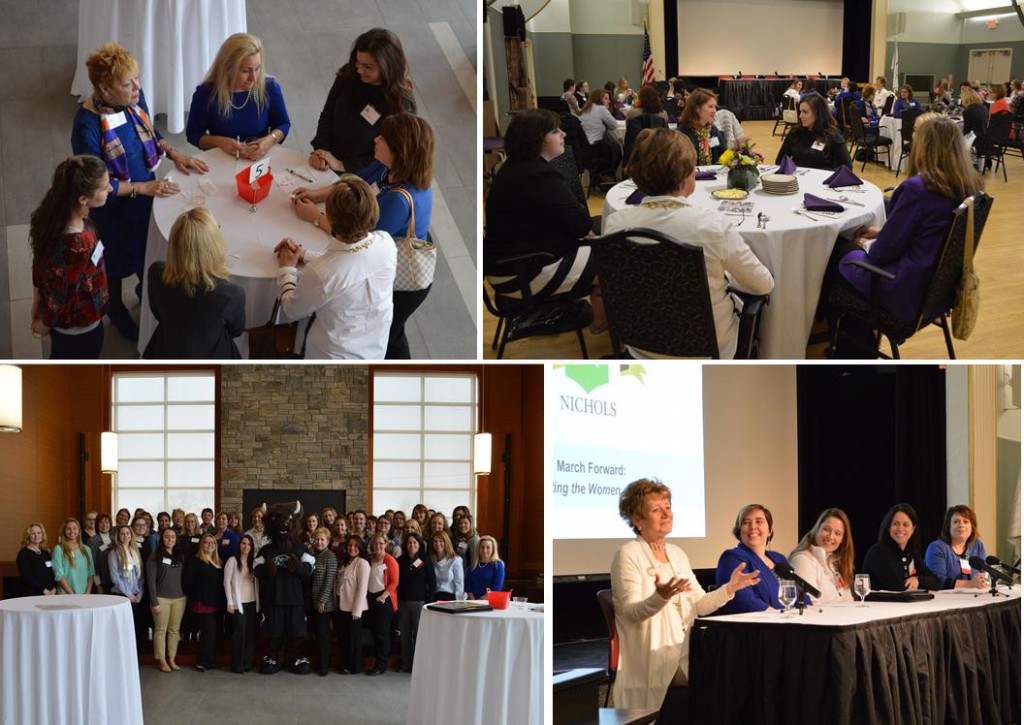 uotes, statistics, and stories of women both on campus and beyond. Returning alumnae appreciated the opportunity to tour Fels Student Center and visit the bookstore. After lunch, the event moved to Daniels Auditorium where a panel of Featured Alumnae participated in a panel discussion on women's leadership. Many thanks to Deb Cote, Heidi DeGrazia, Nancy Gervais, Catherine Morrissey, and Tammy Wolf for their participation. Click here to see the commemorative booklet developed for this event.
On March 26, Nichols College once again presented the Empowering Women in Business conference. This year's keynote speaker was Amy Roloff of TLC's Little People, Big World. Ms. Roloff shared both her personal and professional stories with the sold-out crowd, in a talk entitled "Being the Entrepreneur of YOU." Attendees chose from a variety of professional workshops on topics such as financial planning, starting a business, nurturing your creativity, and more. Networking and a light dinner buffet completed the event as guests had the opportunity to visit over 20 exhibitor/vendor booths.
And finally, IWL is proud to announce the inaugural edition of the Massachusetts Women's Leadership Index. You can read about it here.
April holds many other great things in store – stay tuned! And as always, contact us with any questions.