It is with great pride that we release the inaugural edition of the Massachusetts Women's Leadership Index (MWLI). The purpose of the Index is to provide an overall assessment of women's representation in leadership positions across the Commonwealth. It is our intention and hope that the Index serve as both a baseline for future comparison to measure progress, as well as a call to action for today.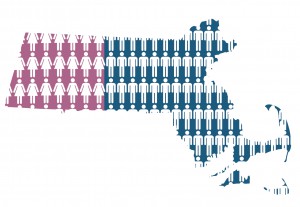 With a unique focus on leadership, the MWLI amalgamates statistics from political, corporate, nonprofit and educational sectors. Women's representation was measured against parity (50%) as well as national averages. By focusing specifically on leadership roles, the MWLI assesses women's inclusion in important decision-making positions that have consequences for large constituencies both in the near-term and long into the future. A white paper describing the MWLI, its purpose, methodology, and findings can be accessed by clicking here.
With any questions or comments, kindly contact Jean Beaupre, Faculty Director of the Institute for Women's Leadership.
Media inquiries, please contact Ron Schachter, Director of Public Information (ronald.schacter@nichols.edu or 508-213-2219).