By Olivia Barrett '16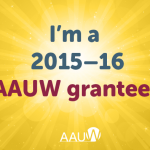 On Wednesday March 9, 2016, the Institute for Women's Leadership and Bartlett High School teamed up for the College Connection Program for the second time this school year, made possible in part by a grant from the American Association of University Women.
The purpose of the program is to connect Nichols student mentors with female Bartlett high school students. In the fall, the mentor-student teams worked on visioning their futures, goal setting, and assertive communication. The focus this time around was th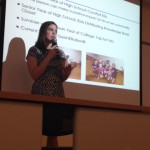 e college experience. Bartlett students learned about all that college has to offer, heard the experiences of the Nichols student mentors, got a glimpse inside life as a college student, and learned how to search for and best present themselves to prospective colleges. In addition, inspirational guest speaker Katlyn Grasso capped off the day.
Throughout the day, students and mentors generated a large word cloud on chalk decals that hung on the wall. As words came to the students' minds, they would grab a chalk marker and head up to the decals. The final product was awesome, and the girls were really able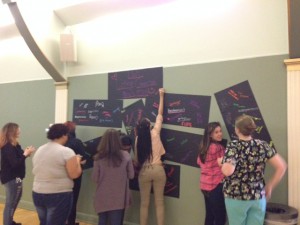 to connect with it.
Students were provided a binder with multiple resources to aide them with the college search and application process. There were information sheets on college fairs, essays, financial aid and admissions, and more. The Nichols College mentors also served as an extremely valuable resource to the Bartlett students throughout the day, sharing their personal experiences.
The students were shown a virtual tour of campus, and had the opportunity to see various parts of campus including a residence hall, a classroom, the dining hall, and the new academic building. In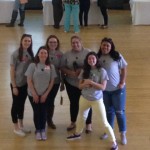 addition, the Nichols mentors shared a "Peek at my Week," a summary of their personal schedule, offering students a glimpse into the life of a college student and all of their weekly classes and activities. The mentors then helped the Bartlett students consider what kind of college they would be interested in, and develop questions they could ask of college representatives.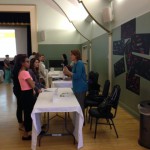 After lunch in the dining hall, the students put their learning and preparation into practice by participating in a mock college fair. At the fair, ten departments on campus were represented, such as Academics, Athletics, Resident Life, and more. The students were given a challenge: ask a question at every table, and win a prize! The fair was beneficial for multiple reasons, but mainly because it encouraged students to step outside of their comfort zones while gaining valuable insight and information about college. When students acquired all ten signatures from the different tables they were given an Institute for Women's Leadership water bottle.
As a culmination of the day, the students were treated to a presentation by Katlyn Grasso, a recent college graduate, CEO of her own company GenHERation and a Seventeen magazine "Power Girl." Katlyn did a remarkable job of captivating both the high school and collegiate level audience. She was truly inspiring and encouraged many in the audience to follow their dreams and make a difference.
Overall, this was a great day. All parties involved had a wonderful experience, and we hope to continue our partnership with Bartlett next year with a new group of juniors!