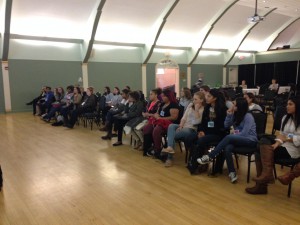 On Wednesday, October 28, the Institute for Women's Leadership hosted 18 female juniors from Bartlett High School for the first College Connection Day. We are thrilled to report that this event was a huge success and exceeded all of our expectations. The day was primarily led by nine Nichols College student "mentors" who guided the students throughout the day in exploring their possibilities, dreaming their futures, setting goals, and practicing networking skills.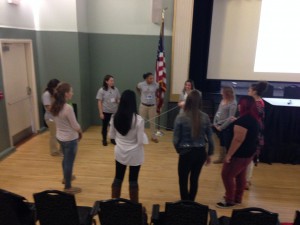 The day began with some fun ice breakers as the students got to know each other and their Nichols mentors for the day. From there, we brought back five recent Nichols graduates for a panel to discuss their experiences, give guidance to the students, and answer student questions about the progression of their careers.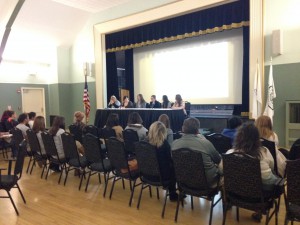 The panel members emphasized to students that you never know where you may end up and to take every opportunity possible.
The day then moved into activities designed to help students dream their futures and set goals. Students developed their own vision boards and created a SMART goal with the help of our Nichols mentors. Following lunch in Lombard Dining Hall, the day closed out with the development of personal elevator pitches and mock networking.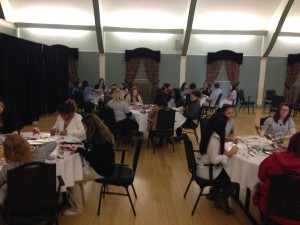 Students were asked to select someone they might like to meet. For some it was someone from a field in which they are interested, for others it was a college admissions counselor. Faculty and staff volunteers came to role-play, helping students with networking skills like body language, proper handshakes, and introductions.
The event was a huge success and, we hope, got the Bartlett students thinking more about their futures. The College Connection Day will continue with a session in the spring, geared towards helping students navigate the college application process. First, we must thank the American Association of University Women for providing IWL with the grant that helped make this event possible. We would also like to extend thanks to the staff members around campus who dedicated their time to the event. We are grateful to Bartlett High School for allowing us the opportunity to make a difference with their students. Finally, we must extend a huge thanks to our Nichols student mentors who were excellent teachers and role models for the students.