by Mary Daly '17, IWL Intern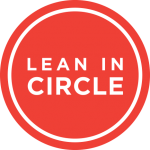 On Wednesday, October 7th, Nichols College hosted its first Lean In Circle for students in the IWL Suite. Lean In Circles are inspired by Sheryl Sandberg and her book Lean In and are designed to empower women in a small group based on confidentiality, commitment, and trust. Circles are generally a comfortable number of individuals who come together once a month and meet for about an hour.
Since this was our very first Circle meeting, we were interested to get to know the students, see what they were interested in, and make sure they understood what Lean In Circles are meant to accomplish. We are proud to say more than a dozen ladies attended the Lean In Circle plus myself and Alyce Viens, IWL Program Coordinator. All of the young women were excited to be a part of the Lean In Circle and were willing to open up about their experiences at Nichols and what they hope to gain from the Circle. Each of us, from freshmen to seniors, shared her story and gave advice to one another about how to break traditional stereotypes. We are excited to see what next month's meeting (Wednesday, November 4th, at 5 pm) has in store for the Circle and what new things we can learn from one another. If you're interested in learning more, you can contact me, IWL, or see our Lean In Circle page.