By Alyce Viens '14
My name is Alyce Viens and it is with great pleasure that I return to the Nichols College campus as the new Program Coordinator for the Institute for Women's Leadership. As a 2014 graduate, with a degree in Business Administration: Management, this campus holds a special place in my heart. It is at Nichols that I began to truly figure out the direction in which I was headed for the future. During my time at Nichols I reinforced my passion for education, interned for the Empowering Women in Business Conference, and spent a semester in Washington, DC as an intern for the United States Department of the Interior. I always look back fondly on my time at Nichols and think of it often.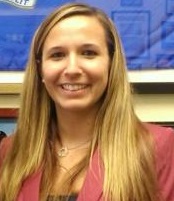 After Nichols, I continued with my education and went from being a Bison, to a Bulldog, at Bryant University where I obtained my Master of Arts in Communication. My communication studies at Bryant led me in several different directions, but my research was primarily focused on political neuroscience and communication, identity formation and expression, persuasion, and organizational communication. During my time at Bryant I was fortunate enough to have incredible mentors, some of the top names in the communication field. They pushed me to the limit every day and definitely played a large role in where I am today. In addition to my part-time position with IWL, I am also a communication adjunct professor at Bryant University and Quinebaug Valley Community College.
During the end of my time at Nichols, IWL was just getting off the ground. I attended a few of the events and found them to be very fulfilling. However, after graduating I had not really thought too much more about it. It was only until I heard Emma Watson's speech at the United Nations' launch of the HeForShe campaign that I started to think about women's leadership once again. I was simultaneously astounded and not at all surprised about the information of women still being unequal to men. Though I had hardly ever consciously considered this, reflecting back on the experiences I have had in both education and in the "business world," I know this inequality to be true. I became fascinated with knowing more and it was then that I dedicated a semester to research into this phenomenon. I dug a little deeper into the word "feminist" and the denotative and connotative meanings associated with it. As a communication student I was primarily interested in the social construction of the word itself and asked myself what the public's perception of the word was. By definition feminism is the political, economic and social equality of men and women, but my research on perceptions, by both men and women, told a different, more negative, story. It was then that my passion for women's leadership surged even further forward. I continue to keep it as an area of interest and a priority to make a difference in the movement towards equality, making this position with IWL a perfect fit for me. I knew from the moment I read the first page of Sheryl Sandberg's book Lean In that something had to be done and that I was one of the people with the drive and enthusiasm to do so.
And here I am! I am here to not only be a resource and support agent for IWL, but also to take control, take a stand, and take a step forward towards redefining the role of women in leadership. I also hopefully am here to inspire and empower other women to do the same. As Steve Jobs once said, "The ones who are crazy enough to think they can change the world, are the ones who do."