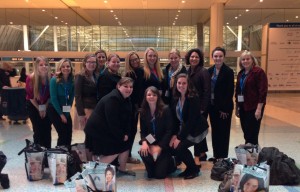 A couple of weeks ago, I had the opportunity to attend the Massachusetts Conference for Women with three great colleagues and 11 amazing Nichols College students (oh, and 10,000 other attendees!). There were 21 speakers, 16 workshops, a Career Pavilion, a Health & Wellness Pavilion, social media roundtables, and a lot more. Among the impressive speakers were Robin Roberts, Susan Cain, Doris Kearns Goodwin, Randi Zuckerberg, Kerry Washington, and one brave man among a sea of women – TOMS founder Blake Mycoskie. There was such positivity and energy throughout the Boston Convention Center, and it was simply fantastic to see women of all ages come together for learning, development, camaraderie, and inspiration. Here are what just a few of our students had to say about the event.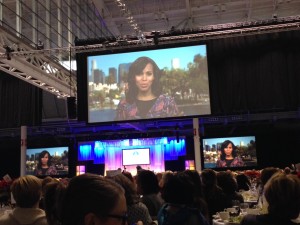 Senior Colleen Coleman: "The Massachusetts Conference for Women was a fantastic experience, and I am so happy I had the opportunity to attend. The fact that there were 10,000 women there, and that it was the largest women's conference in the country, was empowering. It convinced me that women are really making an impression on the workforce and will truly have a positive impact on it as the years go on. Meeting women who own their own businesses, work in various industries, and hold impressive positions, was lovely. Their level of professionalism is something to strive for and admire. Listening to Robin Roberts was my favorite part of the conference. Listening to her medical struggles in life and how she overcame them was touching. One quote she said really left a mark on me. It went something like, "It's not your accomplishments that make you who you are, but rather the obstacles you overcome." Everyone can relate to this quote, and it is so true."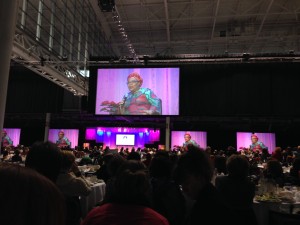 Junior Kerry Postale: "I thought the conference was a blast! It totally exceeded my expectations and if I got the chance to go again, I would take it! It was great to hear from women leaders. You never really know what people are going through until you actually listen to their stories. The story of Linda, the principal at Strawberry Mansion High School, was so inspiring and after listening I realized that I want to donate to that high school to help those students receive scholarships to attend college. I can't say enough about how inspirational and encouraging this conference was."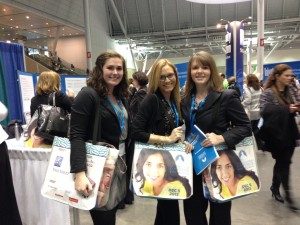 Sophomore Katie Tupaj: "Having the opportunity to go with the Institute for Women's Leadership to the Mass. Conference for Women was a blessing. Besides learning all different tricks about budgeting and balancing an adult life, the trip was a great way to connect with other female students at Nichols. Because of this trip, I am now friends with people I had never met before on this campus. I shared laughs and memories with amazing ladies, and got to know professors on a more personal level. This trip was a great experience and a day out in Boston that I will never forget."
And finally, from IWL Special Projects Coordinator Megan Woodruff '13: "I personally love going to these kinds of conferences as I leave feeling inspired and empowered. This conference was such a great opportunity to hear from fellow successful women, how they got to where they are now, and what they are doing in their communities. There were way too many side sessions to attend that I wish the conference went on for two days! Experiences like attending the Mass. Conference for Women are so important for our female students. They are motivating and shed light on areas that students might not have thought about yet. Thank you to all the students who applied. We look forward to bringing you more opportunities!