by Nicole Zheng '19, member of the IWL Student Advisory Panel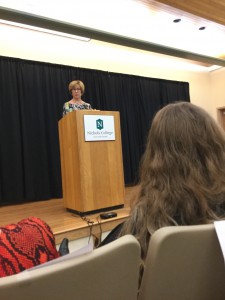 Suzanne Bump, former State Representative and State Secretary of Labor and Workforce Development, is currently the Massachusetts State Auditor. She is the very first woman to serve in this role and has become an inspiring role model for women striving for leadership. Auditor Bump visited Nichols College on October 4, 2016 to give a speech about public leadership, her experiences, and her roles in the Commonwealth of Massachusetts.
In her speech, I admired how honest she was, especially about her failures. While Bump experienced her disappointments, she also conveyed that if it weren't for her failures, she would not have the opportunities she has today. She delivered a message that to be successful, achievements and accomplishments should be balanced with failures, otherwise you would not truly understand what 'success' is. I can relate to this. I have had my share of failures and I sure felt discouraged from trying again, but then I pulled myself together again and looked at other opportunities. I learned that if you do not get what you expected, do not stop trying and working hard. Focus on doing better or direct your focus towards other opportunities because it is not about one thing you do, but all of the things you do. I want to thank Suzanne Bump for being such a strong and courageous woman to step up and inspire many students like me to become better leaders.