The Institute for Women's Leadership is happy to announce our newest addition to our staff: Graduate Assistant Sam Walther. Originally from Annapolis, Maryland, Sam is a recent graduate of Hamilton College in Clinton, New York. A Government major, she primarily focused on authoritarian regimes and human rights. She has decided to continue her studies in the Master of Science in Counterterrorism program here at Nichols. Sam spent time abroad twice during her undergraduate years, first in London and Paris, and then in Sweden.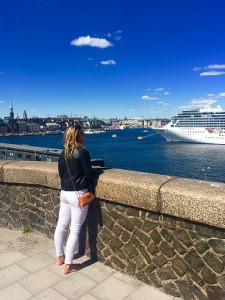 Stockholm, Sweden
During her time in Sweden, Sam conducted primary research comparing the Swedish Criminal Justice System to that of the United States. She spent time touring prisons in both countries and conducted several in-person interviews including those with corrections officers, Members of Swedish Parliament, police officers, judges, and prisoners. She continued her research throughout her senior year by conducting a second study titled "The Treatment of the Mentally Ill in the Criminal Justice System: Survey of the Corrections and Forensic Environments in Oneida County, New York," which is to be published and distributed this fall.
Sam readily explains that Hamilton elucidated her true passion for writing and human rights work and was awarded the 2017 Raphael Lemkim Essay Prize on the Practice of Genocide. Her other research works have included:
– "Political Rhetoric and Hate Crimes: Civil Liberties Violations of Muslim- Americans," which was her senior thesis.
– "Sweden's Criminal Justice System and Mass Immigration"
– "The Nuremberg and Subsequent Doctors Trials: Coining Genocide and the Institutionalization of Human Rights"
-"2011 Arab Spring: Why Syria Failed in Comparison to its Inspirations, Tunisia and Egypt"
-"China on R2P: Creating a New Mediator Role in International Relations."
Her dream is to one day serve as an Ambassador for the United States or for the United Nations Office of the High Commissioner for Human Rights.
In addition to her studies, Sam was a four-year member of the Women's Ice Hockey team at Hamilton. In addition to being the first two-time All American in school history, she was also named an ACHA Academic All-American for the 2017-18 school year, which is given to those varsity athletes who attain a 3.60 GPA or above and participate in over 40% of their schools games. Sam was also a 2017-18 finalist or the Laura Hurd NCAA Division III Player of the Year Award as well as a finalist for the 2017-18 NCAA Woman of the Year Award. In addition to being a 3x All-NESCAC member and 5x NESCAC Player of the Week and achieving 13 records during her time at Hamilton, Sam received both the 2018 Jack B. Riffle Award for Best Senior Athlete, as well as the 2018 Utica Kiwanis Award for Best Scholar-Athlete.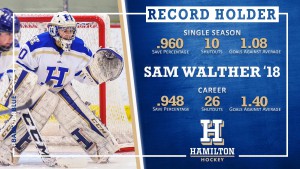 Sam's goals while working at the IWL include beginning to bridge the gap between athletics and the IWL to increase involvement and encourage athletes, both male and female, as well as coaches, to utilize the IWL as a resource. Further, Sam's hope is to help students at Nichols face daily challenges such as confidence, emotional health and control, as well as being able to stand up for what they believe in. She believes that women's rights are human rights and that we must take strides everyday towards equality. She hopes to encourage each student to be brave, confident, and proud of their identity and the role they can each play in creating change. "You know sometimes all you need is twenty seconds of insane courage, literally twenty seconds of embarrassing bravery and I promise you, something good will come of it." – We Bought A Zoo.
Sam also serves as one of the assistant coaches for the Nichols Women's Ice Hockey Team, and is continuing her own hockey career, playing professionally for the Connecticut Whale of the National Women's Hockey League (NWHL).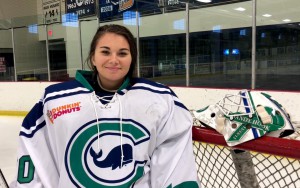 When not in the IWL or at the rink, Sam enjoys dark room and black and white photography, running, and anytime spent at the beach. Oh- and loves her German Shepherd puppy, Shadow, more than anything!