by Gina Petruzzi '17
IWL Student Advisory Panelist
On Wednesday October 26, student volunteers and members of the IWL Student Advisory Panel welcomed Bartlett High School juniors and senior females to campus for our second annual College Connection. The program is made possible in part by a grant from the American Association of University Women (AAUW). The Nichols students acted as mentors for the Bartlett High School students for the entire day. We had a lot of fun and learned a lot from each other.
The Nichols mentors arrived in Daniels Auditorium bright and early at 7:15AM to prepare for the day that was about to begin. At about 8AM, we welcomed the Bartlett students to Nichols. Each of the students got off the bus with an eager smile on her face and you could tell that they were all excited to see what the Nichols College mentors had in store for them. As excited as all of the Bartlett students were, we Nichols students were equally as excited. We began the day with introductions and a few icebreakers. We then broke out into small groups and got to know each other a bit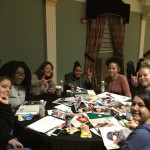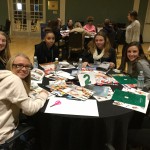 more. We made vision boards and encouraged the students to dream and envision their futures. We led the students through an interesting exercise where they drew the roads that were going to pave the way to achieving their dreams. It was useful to better understand the various steps it would take to turn a goal into reality. We then helped the students craft a personal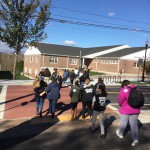 introduction, tapping into our elevator pitch experience from our Effective Speaking course. The goal was to get the students comfortable with networking and asking questions of people who might help them achieve their goals. Then, it was off to lunch — the Bartlett students love Lombard!
After lunch we went back to the Auditorium and the students participated in a mock networking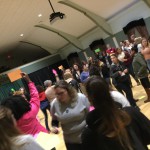 event, where they were able to practice their introductions. Lots of volunteers — staff, faculty, and students — came to help; their role was to role-play as whomever the Bartlett students thought might be useful to meet. The students had identified a wide variety of people such as manga artists, tourists, doctors, RNs, college admissions counselors, and faculty of their desired majors. Each student was tasked with finding their "person" in the crowd, then practicing their introduction and interacting with that person. This was an awesome part of the day because it was when each student came to life and stepped out of her comfort zone. It was amazing to watch the progression of each individual throughout the day.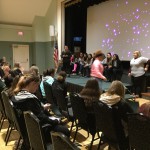 One of our last activities was forming a large circle with all the students, mentors, and staff. Each individual gave one word to describe the day; they included: inspiring, amazing, life changing, motivational, and awesome. All of the words said were so sincere about the day for everyone involved. We ended the day with certificates of completion for each of the students, and goodbyes. We were sad to see our friends from Bartlett go, but we look forward to seeing them again in March!