By Alyce Viens
Ah, a New Year is upon us. As 2015 ends and we begin 2016, many of us find ourselves reflecting back on the previous year and making the notorious, "New Year's Resolutions." According to Statisticbrain.com, about 45% of Americans usually make New Year's resolutions; however, only about 8% of those people actually succeed in what they set out to do. What a troubling statistic! The most common resolutions center around being healthier (losing weight, exercising more, eating better), quitting a bad habit, and saving more money. Those certainly are good resolutions to make, but I think if we strive to create resolutions that are internally more meaningful, we may be more likely to achieve them.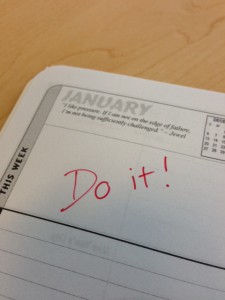 I am not one to normally make resolutions, but I sat down this year and really thought about what I wanted to achieve. Ultimately, the conclusion I came to is two-fold, be happier than I was last year, and do more for myself than last year. This is not to say that I am an unhappy person, but I think we should strive to continue to better ourselves. This is also not to say that I should be more concerned with myself than with others, rather it means that I should do things for myself. For example, I would like to work to be less stressed and to be more accepting of life's challenges. I would also like to take more risks and do more things that take me out of my comfort zone. I would like to be more assertive and to express myself when before I was too timid. I would like to feel more empowered and simultaneously inspire others to do the same.
Instead of making a resolution such as "spending less money" that you may not keep, make a resolution that will better your entire lifestyle and who you are as a person. Maybe that resolution is to learn something new, or to experience life from someone else's perspective. Maybe it is to finally ask for that promotion at work. I think everyone should take a page from Nina Garcia, Creative Director of Marie Claire magazine and Project Runway judge, who recently tweeted, "Early New Year's Resolution: Time is our greatest luxury, slow down and enjoy it."
Whatever your resolution may be, let 2016 be the year that you achieve it. Let 2016 be the year that you commit to improving yourself, not for the evaluation of others, but to be a happier and more empowered version of yourself. Let's improve that 8% — tweet us your resolutions @IWL_nichols.
A note from Jean Beaupre: It is appropriate that Alyce writes about taking more risks and taking herself out of her comfort zone. As this blog post goes live, Alyce is finishing up her time here at IWL, precisely to do just that. She is moving into a new and exciting, but also challenging, stage in her life. She will be focusing on teaching (you'll still see her on campus!), and diving into research projects to tackle her goal of getting her PhD. We thank her for all of her hard work this past semester, and the enthusiasm she's shown for the IWL mission. And we wish her all the best; she's on her way to being among the minority who actually achieve their resolutions!