As we dive into the 2017-18 school year, we would like to share some updates from the IWL. Jean Beaupre, former Faculty Director of the IWL, has moved to an Advisory Role, and Rachel Ferreira has taken over as Director. Supporting Rachel as Program Coordinator is recent graduate Rachael Fassnacht '17, previously a member of the IWL Student Advisory Panel. Rachel, Rachael, and Jean share their thoughts below.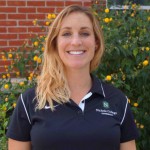 From Rachel Ferreira, Director: My sister graduated in 2010 from Nichols College, and I found my way here because I saw the impact this institution had on her. Now in my role as the Director of the Institute for Women's Leadership, I hope to directly impact current female students in their journey. My background is in international relations and human rights, and I know that bringing awareness to issues impacting women's leadership here at Nichols is one direct way of promoting change.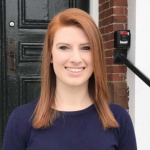 Rachael Fassnacht '17, Program Coordinator: I am a graduate of Nichols College, in my fourth year, pursuing my dual MSA/MBA. As a panelist for the three years of my undergrad, I am dedicated to the discussion of women and leadership. To me, the two go hand in hand. It is important for these conversations to encourage Nichols students regarding the future of their leadership as women in business.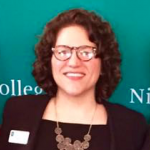 From Jean Beaupre, Faculty Advisor: After four years of serving as the Faculty Director of the IWL, I am thrilled to see it enter its next phase. Rachel is an amazing choice to take the reins, and I know the IWL and our students are in great hands. Also, it's wonderful to see Rachael come back as a graduate and continue her contributions. I'm excited to see where  the IWL goes next, and am happy to be able to support their efforts in an advisory role, as I take on a new one of my own as Chair of our new Communication B.A.
_________________________________________________
What's Ahead for IWL
We plan to focus our theme this year around confidence and the effects it has on women in business. Whether it be professional development, networking, or negotiation of the wage gap, confidence can play an enormous part in how women strive to close the gender gap.
Our upcoming events include:
Lean In Circles: Monthly gatherings for discussions among students regarding issues they are facing. Each month a new facilitator brings a new voice and perspective.
Conversation Projects: Dinner gatherings where students have the opportunity to meet and network with visiting professionals in a comfortable, conversational setting.
Socials & Workshops: Students are able to further their professional development with networking and negotiation skills through our immersive social and workshopping events designed to raise awareness.
Conferences: We invite our students to represent Nichols at the largest women's conference in the country — the Massachusetts Conference for Women in Boston — and are proud to host our own Empowering Women in Business Conference here on campus, welcoming professional women in the region for networking, skill building, and inspiration.
Please click here to see the current schedule for Fall 2017.