by Lindsey Oliver '16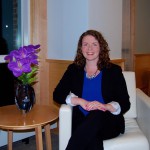 As I come to the close of my college career, I cannot help but reminisce over the last four (and best) years of my life. While I could talk about my favorite classes that I took, the friends that I made, the places I travelled to, I really want to focus on one aspect that was instrumental to my success at Nichols College: my involvement in the Institute for Women's Leadership (IWL).
During the second semester of my first year, I took a class with Jean Beaupre, who is now the Faculty Director of the IWL. She had reached out to me one day after class and asked if I had any interest in women's leadership and empowerment. Let me tell you, she was asking the right person! Since then and after much hard work on Jean's end, the Institute for Women's Leadership was established. During the spring semester of my sophomore year I joined the Student Advisory Board. This semester I worked as a Co-program Coordinator (and am very much enjoying the new suite).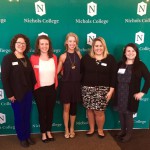 Although I have held many titles and worn many different hats during my time at Nichols, what matters is what you accomplish, the experiences you have, and the opportunities you seize while holding those titles. During my involvement with the IWL, I have had more opportunities than I could count. I attended the Boston Women's Conference, the largest women's conference in the world, three times, the Worcester Women's Conference twice, and witnessed icons such as Hillary Clinton, Robin Roberts, Blake Mycoskie, Kerry Washington, Shonda Rhimes, Deborah Roberts, and Tim Gunn (just to name a handful). I volunteered at the Empowering Women in Business Conference here on campus for three years and was lucky enough to interview this year's keynote, Adrianne Haslet-Davis, just a few weeks ago. I took part in planning the first ever Campus Leadership Summit this semester. I've attended networking events and negotiation workshops, visited businesswomen at their companies, enjoyed wine with the Women of Nichols at our Women and Wine event just recently, and have had an absolute blast all the while.
Over the years, I established a great relationship with Jean and look to her as a mentor and role model. I am so thankful to have worked with her. I am also thankful that the more involved I became with the IWL, the more visible I became on campus, which led to other opportunities in many different departments. With everything I got to participate in, I learned so much more than I would have in a traditional classroom and that is how to be a strong female leader, how to network, negotiate, empower others and be confident, and most importantly, how to believe that the only limits I have are the ones I set for myself.