Last month, a group of students, faculty, and staff from Nichols attended the Massachusetts Conference for Women. It is the largest women's conference in the country, attracting 10,000 women. This year, we were treated to presentations by designer/philanthropist Tory Burch, actress Lupita Nyong'o, John Jacobs (of Life is Good) and keynote Hillary Clinton, among many others. Additionally, there were workshops and sessions by dozens of other professionals on a variety of topics. (Click to link to videos from the conference.) Below are reactions from two students who attended the conference.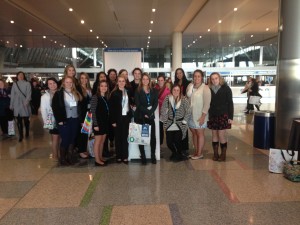 From Alexandra Morrow '17:
"I am so fortunate to have had the opportunity to attend this year's Massachusetts Conference for Women. It was an incredible experience, and one that I will truly remember for a lifetime. I was able to attend breakout sessions focusing on leadership, the work environment, professionalism, health, and much more. Each taught me something new and useful. How a simple thank you can make a difference, that laughing is the best cure for stress, and that if women stay together they can make a difference.
The speakers I heard today were inspiring and truly touching. Every speaker had their own message. Each one was different, and had an equally large impact on me. My favorite speaker though was Lupita Nyong'o. Her speech was on her personal journey to finding herself/defining her identity and becoming an actress. She focused on self-doubt, which we all suffer from and how it is accompanied by the fear of failure. The key point being that we all have dreams that may be unrealistic, yet by denying ourselves the chances to chase them, we are holding ourselves back from true happiness.
Before our group left, I was able to browse among the exhibits that were present at the conference. There were more than 100 booths! Although it was more of zoo-like atmosphere with women everywhere the eye could see, I was able meet new people, see new products, learn about recruitment programs, and get free samples too! Overall, I really did have a wonderful time and I hope that I will get the chance to attend next year as well."

From Erica Sullivan '18:
"The Massachusetts Conference for Women was absolutely amazing! The speakers ranged from Ann Fudge, Tory Burch, John Jacobs, Lupita Nyong'o to Hillary Clinton. Everyone who spoke was very inspiring – the feeling of empowerment was contagious! The workshops available also ran the gamut of health and wellness, crisis management, negotiating skills, and cultivating leaders. The event was beautifully orchestrated with smooth transitions from speakers to interviews, a precise layout of vendors and locations of workshops, and an overwhelming positive experience for 10,000 women (and some men.) I cannot say enough how thankful I am for the opportunity to have gone. The conference left me charged with new energy and an innovative mindset to go out and seek my passion."