By Madison Perrotti '23
Christine Prunier '06, '16G is the chief human resources officer at KLR, as well as co-chair of the Nichols College Board of Advisors and an adjunct faculty member. Christine has worked in HR for 30 years, having climbed the corporate ladder through dedication and commitment.
Remarkably, Christine did not aspire to be a leader until she met her mentor. She reflects, "She was first person who believed in me. She built my confidence, took me under her wing, taught me everything I needed to know, and encouraged and answered every question I had." There was no stopping Christine from there.
Early in her career, she "was just excited to have a seat at the table! For the first few years, I would digest the information, listen, and see how everyone interacts, who needs my support, and who I may have conflict with. By my third year, it shifted to what was right for the company (not others) and I found my voice."
Throughout her years in the industry, she noted differences in how women and men lead. Christine states, "I have found that women often do not speak right away. They listen, they digest, they might ask questions, but they are not always the first to say they agree or disagree. Here is why: A lot of times we are very aware of other people's perceptions. We do not want to be perceived as being overly aggressive, and that is what you will hear — if a woman voices her opinion, she is seen as aggressive while it is not the same for a man."
Christine notes, "Men tend to not be as emotional; it is about facts and data for them. Many women are subjective, think with their heart first and then go to the head — the objective choice. Personally, I can be emotional. I had to learn what my role was, self-regulate my emotions, but also how to stand up for myself."
As a former student and now adjunct faculty, Christine knows first-hand that at Nichols College, we are empowering the leaders of tomorrow. "It is really about what is going on in the world," she says. "The students are engaged, raising their hands, answering questions, supplying examples because the content is relatable. We use real case studies of what is going on in the world and class work that is relevant."
On the development of our female students, Christine admires the work of the Institute for Women's Leadership (IWL) at Nichols College, as it is the building block of empowerment. She comments on how IWL helps to prepare the next generation of female leaders: "They are teaching our young women that it is okay to have conflict, it is okay to negotiate."
Christine's words of advice for young women are to, "First set goals. And second, know that it is not always a straight line. Know it is okay to make a mistake. Know that you are worth it, and you have a right to have a seat at that table."
This interview is part of a series focused on women's leadership, conducted by Research Associate Interns Victoria Palkon '24 and Madison Perrotti '23. As part of their Spring 2021 internship, the students assisted Prof. Jean Beaupre research and develop the 2021 Massachusetts Women's Leadership Index.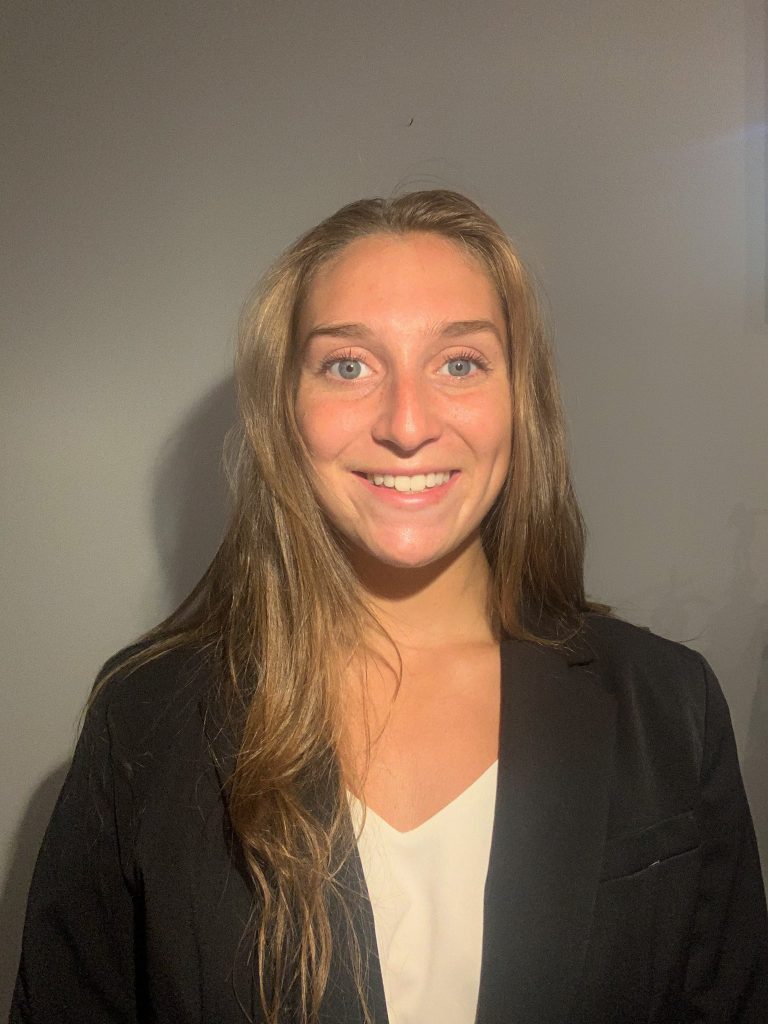 Madison is a rising junior concentrating in International Business. In addition to being a panelist for the Institute for Women's Leadership, she also serves on SGA (Student Government Association), is co-founder and President of the It's On Us chapter, plays on the varsity volleyball team, and is an Admissions Ambassador at Nichols College.