By Olivia Barrett '16
IWL Student Program Coordinator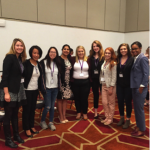 Earlier this summer, I hopped on a plane and embarked on a totally new and exciting adventure. Katlyn Grasso, CEO and founder of GenHERation hosted the first series of five Discovery Days. (I met Katlyn last March when she visited Nichols for the IWL College Connection program.) Discovery Days provide females in college and high school the opportunity to visit the most innovative companies in America and to meet with female executives. When choosing which of the five series I wanted to join, I had to think both realistically and logically. The five locations included San Francisco, Los Angeles, Chicago, New York, and D.C. Those are all pretty far from Massachusetts but my older brother Cole lives in San Francisco. Fortunately, he was very willing and excited for me to fly out and stay with him.
Day One:
Sunday night, I left Boston at about 9 p.m. and didn't arrive in California until about 2 a.m. their time. Monday morning, I woke up bright and early to start Discovery Day 1. Day 1 included four stops: IDEO, Sephora, Twitter, and Adobe. In order to get to all of these companies, we followed a very strict schedule and were chartered around on a bus.
IDEO
Our first stop on the route was IDEO — one of the coolest companies I have ever been to. They have an extremely translucent work environment that encourages employees to embrace ambiguity and think with an open and creative mind. The panelists at IDEO also were extremely passionate when speaking about their positions, the work they do and IDEO in general. IDEO puts a significant emphasis on the importance of loving where you work and what you do. Some ways this company ensures that all employees come together is through a family-style kitchen. On Fridays they make soup, on Thursdays they have oatmeal in the morning, and on Wednesdays they have afternoon tea time.
IDEO has seven core values that all employees and customers alike must honor. All of these seven values are elaborated on in the Little Book of IDEO. The values are:
1. Be optimistic
2. Collaborate
3. Take ownership
4. Embrace ambiguity
5. Talk less, do more
6. Learn from failure
7. Make success
Sephora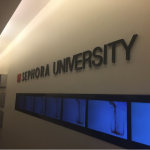 Next on the trip, we went to Sephora. Being a very loyal customer of this company, I was beyond excited to visit. In California, the Sephora location is their headquarters. When we walked in, the room had the signature black and white stripes on the walls, and rows of chairs that were black and red to adhere to the company's signature look. On the chairs there were the Sephora bags, when all fifty of us walked in, our eyes lit up like the fourth of July! Sephora gave each and every one of us free samples! We also had the opportunity to listen to a panel speak which was extremely beneficial. Two out of the three women on the panel were new to the Sephora team, they offered a lot of valuable insight in regards to achieving your work goals.
Twitter
Personally, Twitter was the company I was most eager to visit. Twitter plays a significant role in various aspects of millions of peoples' daily lives. Getting inside the building and seeing the office was such a cool experience. The employees of Twitter said they work in a extremely transparent environment and that they are privileged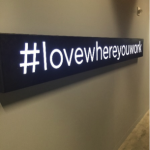 to work there. Twitter is an organization that encourages and enables growth. Similar to the other companies we visited, a trending topic among employees at Twitter is to #DoWhatYouLove. The women we had the opportunity to talk with all came from various backgrounds and college majors. But over time their positions found them.
Adobe
By then end of the day, we were all pretty tired. But when we arrived at Adobe, they had a giant gumball machine, and a panel of friendly faces to welcome us. Adobe started with a panel but ended off the day with a fun competition and introduction to a new application they just launched. Overall we had a great day and took away extremely valuable information and advice.
Day Two:
This was a big day. I navigated to San Jose from San Francisco. I took an Uber to 4th Street Station, and took the Cal Train all the way to the San Jose Station, and then took an Uber to the hotel. I felt like a true Californian.
EY
This day started off in a different manner than Day One. EY is a company that is committed to building a better working world through asking better questions and finding better answers. Their employees came to the hotel to talk to us. Instead of sitting and listening to these women on a panel, we broke off into groups and asked questions about achieving success in the future. These women provided great insight and were able to answer all of my questions.
PayPal
The PayPal campus was different than any other business we had been to on the Discovery Days. Unlike the other companies, PayPal had an entire campus. It was a beautiful space. We were taken on a tour and then listened to a panel. The employees of PayPal were ecstatic to see us on the campus. They thought we were interns, and were beyond ready to welcome us aboard the PayPal team. By the end of this company visit, I was completely sold; it was a company I could truly see myself working at.
Facebook
When we arrived at Facebook the security was extremely strict. We all had to sign in electronically and received badges that were mandatory to wear throughout the entire campus. Some of the really cool features about Facebook included the dining facilities and the on-campus arcade. A neat fact is that all the games in the arcade are created and maintained by the Facebook employees. The employees around campus were extremely welcoming and eager to answer our questions.
Google
Google was exactly what I had envisioned: when we entered the building the employees were playing ping pong against a computer. We listened to a discussion panel and had an opportunity to ask questions. After we moved on to a simulation where we were challenged to think out-of-the-box and collaborate as a team.
Wrap Up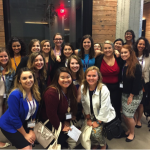 All in all, this was a great experience. I am beyond grateful for having met Katlyn through the IWL. I met female executives from the most innovative companies on the west coast. This trip pushed me outside my comfort zone and enabled me to make friends from all over the United States. I would definitely recommend this program to anyone who is eligible to participate. I had a lot of fun pushing myself to meet new people, engaging in all activities and making connections at all of these companies.
For more information, you can visit GenHeration's website.