By Rachael Fassnacht '17
This past Sunday night, the IWL Student Advisory Panel had our first full panel meeting. All members were in attendance, with the exception of two, as well as IWL faculty director Jean Beaupre. We discussed and assigned all planned events, and brainstormed several events to put on this semester. We collectively made the decision to put on "Flowers for a Cause" again this year due to the overwhelming amount of positive reactions last year, plus the dedication from the panel to make it happen again!
Click here for the Fall 2016 IWL Events Calendar.
Our brainstorming efforts resulted in two events to be held in the Spring: "Love-Yourself -Selfies" and "Take What You Need." We're excited about our photo booth idea, "Love Yourself Selfies," because it will provide students with an IWL-branded keepsake as well as furthering the message to love yourself by taking a picture with friends. We're working out the details on the "Take What You Need" event… stay tuned!
We look forward to the next meeting where all members will hopefully be in attendance to take a full group photo and discuss the success of the events that will have passed!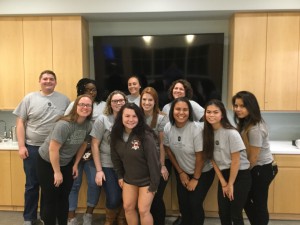 2016-17 IWL Student Advisory Panel:
Lauren Bennett '19
Mary Daly '17
Rachael Fassnacht '17
Tyler Hussey '18
Kristina Maxwell '18
Gina Petruzzi '17
Isabella Sansone '18
Lynn Thibault '20
Sammi Truong '19
Karen Velasco '19
Nicole Zheng '19
Olivia Barrett '16, IWL Program Coordinator
Alexandra Vojtila '17, IWL Program Coordinator