Written by Lily Marguy '25, IWL Communications Chairperson
The beginning of the Homecoming event could not have been better as the Susan West Engelkemeyer Institute for Women's Leaders celebrated its 10th Anniversary Homecoming Brunch. Gathered in Davis Hall were familiar faces, including alumni and students who were eager to celebrate and commemorate a decade of empowerment and growth that has led the Institute for Women's Leadership to where it is today.
The opening remarks delivered by Denise Hall, Peter Caruso '90 and Jean Beaupre, EdD, took us back in time to the Institute for Women's Leadership's early beginnings and emphasized how their hard work not only created a welcoming and open environment but also became a place where women could be educated on self-confidence and skills essential for success in the workforce. Moderated by Claire Curry '24 and Emma Dix '24, the panel consisted of three empowering and inspiring speakers: Alexandra Vojtila '17, Isabella Richard '18, and Kaitlyn Baron '19. Each came from different fields and career paths, and they delivered inspiring speeches on diverse topics related to their experiences.
In the case of Alexandra Vojtila '17, she focused on working in a male-dominated environment, situation women often find themselves in after college. Al shared her firsthand experiences as she pushed herself to break through glass ceilings, navigated gender bias, and discussed strategies for combating stereotypes, advocating for equal opportunities, and promoting an inclusive environment. Her persistence and strength were evident as she emphasized taking risks and not backing down from a challenge.
Isabella Richard '18 discussed the delicate balance between ambition and well-being in the workforce, particularly in high leadership positions. She provided insights into maintaining both mental and physical health, setting boundaries with coworkers and supervisors, and managing the demanding expectations that come with such roles. In her discussion, she shared practical tips and strategies for self-care, stress management, and placed importance on creating supportive environments that value work-life integration.
Kaitlyn Baron '19 emphasized the importance of having a mentor throughout your career. She shared her experiences with a mentor, particularly during her CPA journey and highlighted the profound impact mentors and sponsors can have on one's career. She also discussed the benefits of participating in mentorship programs and the importance of building a supportive network for aspiring women leaders.
This event served as a platform for women to share their experiences and wisdom, empowering others to overcome obstacles and succeed in their respective fields. It stands as a testament to the Institute for Women's Leadership's mission of empowerment and growth.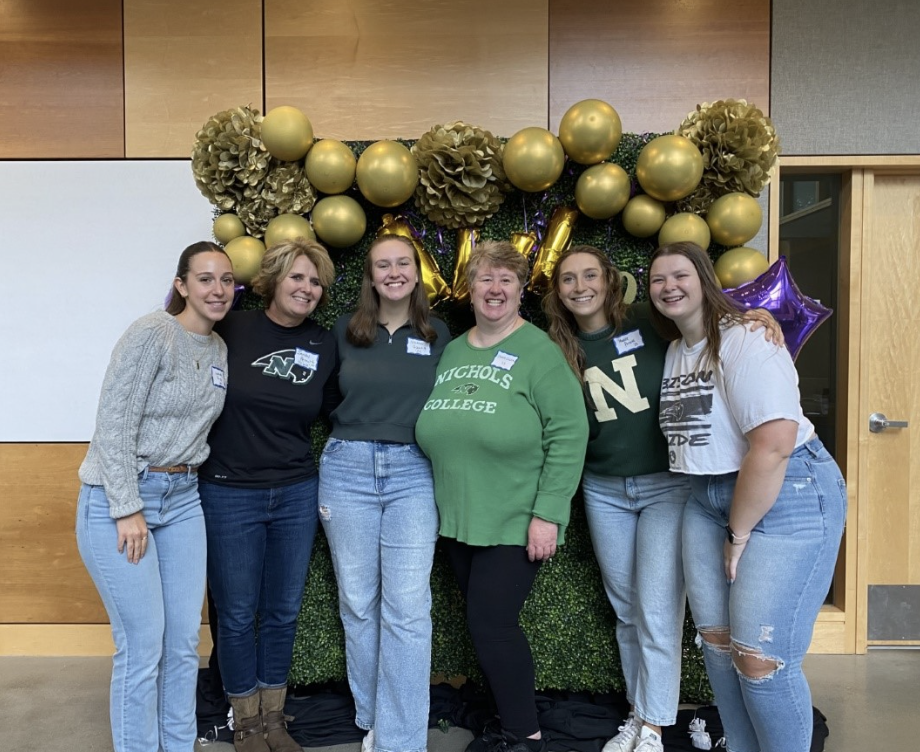 Pictured here (left to right): Lindsey Rugg '22, Sandy Perrotti '94, Heather Gavin '24, Dawna Gauvin '93, Maddie Perrotti '23, and Emily Tinyszin '22.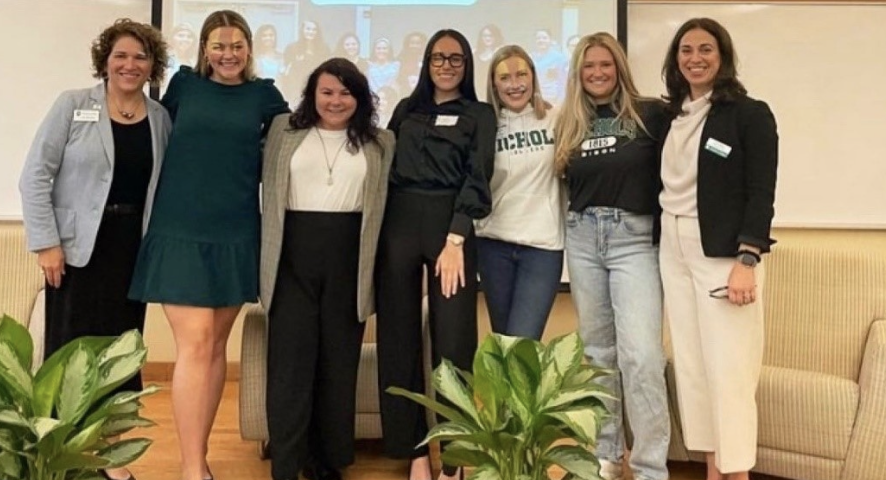 Pictured here (left to right): Jean Beaupre, EdD, Emma Dix '24, Isabella Richard '18, Al Vojtila '17, Kaitlyn Baron '19, Claire Curry '24, and Leslee Ruggeri – "One of the most gratifying pieces is how students really care about the organization and how each cohort of student takes the institute and makes it their own" – Jean Beaupre EdD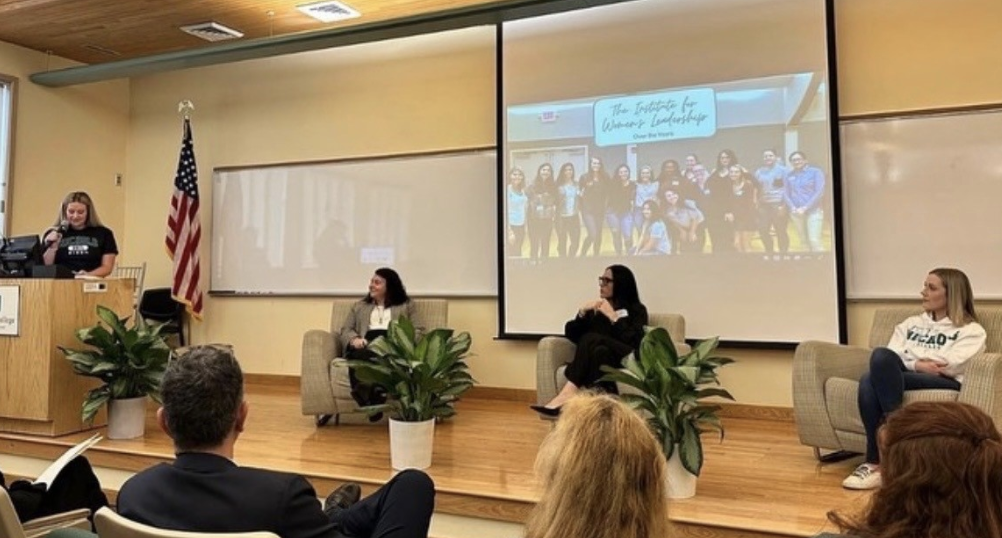 Pictured here (left to right): Claire Curry '24, Isabella Richard '18, Al Vojtila '19, Kaitlyn Baron '19