The graduation of the Class of 2019 on Saturday May 11 marked another successful year for the Institute of Women's Leadership. We were proud to watch three of our panel members walk across the stage and celebrate their accomplishments with their friends and families. As the year officially concludes, we are excited to reflect upon some of our accomplishments over the course of the 2018-2019 school year. The Institute for Women's Leadership hosted a total of 48 events throughout the school year, with 8 of those falling across just 5 days during the 2019 Awareness Week. Awareness week is a staple of the IWL agenda and in reflection, Alicia Hunks '22 said:
"The most impactful thing we did this year was awareness week as a whole. This was impressionable to me because I was able to see people interacting and learning everyday of the week. It gave men and women the opportunity to express their thoughts and open up their minds to being more positive. Especially as college students I think this is something that a lot of people struggle with."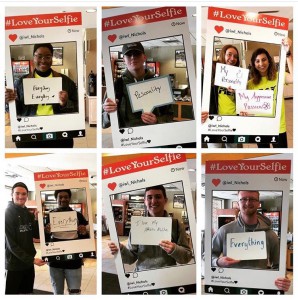 In addition to our thirteen Student Panel Members, we were proud to have affected over 1,000 Nichols students either through attendance in one or more of our events, participation in our Awareness Tables, or through conversations about issues that face our campus. In particular, through our Women's History Month Photo Installation called Don't Table It, Talk about It, which featured 50 of our students, faculty, and staff.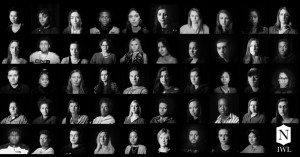 Before leaving for their summer break, we asked our panel members to reflect upon their most impactful experiences from this year. Highlights included the Photo Installation, which was a brave new approach to social movements for Nichols campus, as well as the College Connection Mentoring Program, which invites girls from the local high school to take part in a day of goal-setting activities, leadership training, and college preparation discussions. On College Connection, our panelists noted:
"I believe the most impactful event I attended this year was the College Connection Program. It is always so fun welcoming the Bartlett students onto campus. Some of them are usually already sure of what they want to do and where they want to go, whereas others really need some extra motivation and a positive boost. Moreover, having been in that category myself, I know how it felt getting the reassurance that I too qualified to go to college, regardless of my financial situation. It assured me I can pursue higher education and become something. I believe that what we're doing is very important and is greatly impacting the way they look at college." – Lynn Thibault '20
"One event was the College Connection Program with the students from Bartlett High School. I loved getting the chance to be able to mentor the girls for the day and speak from my experiences and hopefully inspire them to become more confident. I made some friends that day and if I made any impact on their life, even just giving them a reason to smile, I knew I succeeded. I also loved the goal setting activities we did and getting the chance to help the girls do mock interviews. An event similar to this one is something I wish I was able to take part in during high school. I believe the girls learned a lot that day and were able to take away very important information that can help them with their future careers." – Sophia Prouty '21
In addition to giving back to our surrounding community through events such as College Connection, the IWL also emphasizes networking, and learning through experiences, by engaging in events off campus. Three of our highlight off-campus events this year included a day trip the United Nations Headquarters in New York City, the Outstanding Women in Business Conference in Worcester, and the attendance at the annual Massachusetts Conference for Women in Boston. These off- campus events have long been highlights of the IWL's agenda and one panelist noted that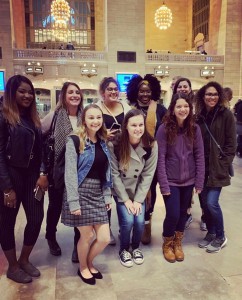 "I think one of my favorite experiences has been getting the opportunity to go to that WBJ event for Outstanding Women in Business. Getting to hear those women's stories was very inspiring to me and made me realize I want to be more like them; creating an impact for those around me and for my community. Listening to them made me rethink my definition of success; they've all done so many great things that they got a chance to talk about, that wasn't based on monetary gain for themselves or their company." – Bridget Canavan
We could not be happier with the success our events this past school year and we are looking forward to engaging with more students creating an even bigger impact on campus next year. Not only did we raise awareness on our own campus, but we're confident our graduates will continue to make a change in wherever their path takes them next. The IWL is excited for the summer to build new programming and we're always looking to build events surrounding our student's passions. We're always accepting new ideas and encourage students to reach out at any time.
Feel free to contact Rachel Ferreira or Sam Walther with your ideas at iwl@nichols.edu.