This semester the IWL is pleased to announce the newest members of our staff. We welcome two of our Student Advisory Panel Members as Co-Program Coordinators for the Institute. In addition, we are happy to have Liz Gargone as the Event Intern for the Empowering Women in Business Conference.
Olivia Barrett '17, Co-Program Coordinator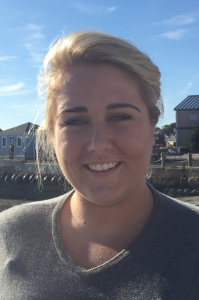 I am thrilled to have been brought on at the IWL. I am a senior double majoring in Human Resource Management and Business Management. I am the Program Coordinator for Residence Life, an Intern for Professor Mary Trottier, the Vice President of the Human Resources Club, and on the IWL Student Advisory Panel.
During my sophomore year of college, I enrolled in How Women Lead, which was co-taught by Professor Moore and Professor Beaupre. This class truly opened my eyes and inspired me to become more involved with the IWL. I am extremely passionate about women's leadership. The IWL has enabled me to partake in events and make connections that I would have never even dreamed possible. By being on the panel and working at IWL, I hope to educate individuals in our community about the gender gap, women in business, and the benefits of getting involved. This semester at the IWL, I will be working as a Program Coordinator, planning, organizing, and conducting events around campus. Some of these events include the College Connection Program, Lean In Circles, and Equal Pay Day. I am beyond excited to see what this semester at the IWL has in store. Feel free to contact me with any questions or suggestions at Olivia.barrett@nichols.edu.
Lindsey Oliver '16, Co-Program Coordinator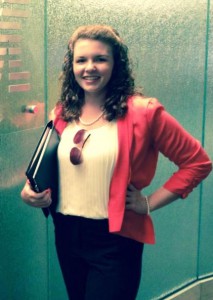 I am a senior specializing in Marketing and minoring in Business Communications. I recently completed the Honors Scholars Program at Nichols, am working on my third and final year as Secretary of the Class of 2016, and my second year on the IWL Student Advisory Panel.
Considering my longtime passion for women's leadership, I am excited to say that I was recently added to the Program Coordinator team for IWL alongside Olivia Barrett! IWL has provided a wide range of opportunities throughout my years at Nichols. From conferences to classes to events, I have learned skills such as confidence and negotiating and have met other students who share my interest in empowering other females. My job will mainly consist of creating marketing and promotional efforts for IWL events, running events and also blogging. Feel free to stop into the IWL Suite to see what we're up to or email me at Lindsey.Oliver@nichols.edu.
Elizabeth Gargone '17, Event Intern, Empowering Women in Business Conference
I am a junior majoring in Hospitality and minoring Psychology. I am a part of the Nichols College Cheerleading Team as well as the Hospitality Club. I was picked to be a part of the How Women Lead class that is offered at Nichols, which gave me extensive knowledge about women in business. I chose to do the internship with the Empowering Women in Business Conference (EWIB) because I have a strong interest in event planning and understand the struggles women face in their everyday lives. Because of these interests, I was drawn to be a part of the conference. I already had the opportunity to work with Professor Beaupre in planning an event for the Institute for Women's Leadership last semester. I believe that the messages behind EWIB and IWL are tremendously important, moving, and useful for female professionals today. This semester, my internship will include assistance in planning and hosting of the Conference. Specifically, I will help with promoting the event, recruiting and training volunteers, and documenting committee meetings. In addition to working with the EWIB Committee, I will also help plan and attend IWL events, such as the Lean In Circles. If you have any questions or ideas, please, feel free to contact me at Elizabeth.Gargone@Nichols.edu.