On Tuesday, October 21, the Institute for Women's Leadership will proudly welcome Kim McCarthy '92 to campus to serve as the management/entrepreneurship Mentor-in-Residence.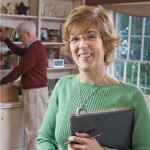 Female students will have the opportunity to meet in a group with Ms. McCarthy to hear about her career path, advice on management and starting your own business, and other Q&A. Then, she will be available for  one-on-one mentoring sessions to include topics such as  resume review, career advice, tips for entrepreneurship, or any other number of topics of the student's choosing. Schedule is as follows:
Tuesday, October 21
Group Q&A session: 1:30-2:15pm
One-on-one sessions available: 2:30-5:00pm
Students should sign up for the group and/or individual sessions via an EventBrite invitation they should have received by email, OR email iwl@nichols.edu.