Hosting the ninth annual Empowering Women in Business Conference, the Institute for Women's Leadership is proud to announce our two student interns who will help coordinate, market, network, and manage the event. The Empowering Women in Business Conference invites women leaders from the local community and our Nichols network to gain inspiration from our diverse series of presenters and keynote speaker. The conference offers a collection of sessions and networking opportunities designed by business leaders, educators, and Nichols students to provide attendees the opportunity to enhance their own business skills, individual growth, and career focus.
The student internship is a great opportunity for two Nichols students to bring their marketing skills, ideas, and leadership abilities to life. The interns are given the opportunity to design their own marketing and promotion plan, build the networking outreach opportunities, and recruit, assign, and supervise the mass number of volunteers needed for the conference to be a continued success.  The interns for the 2019 Empowering Women in Business Conference are Sachelle Mercado '20 and Lynn Thibault '20.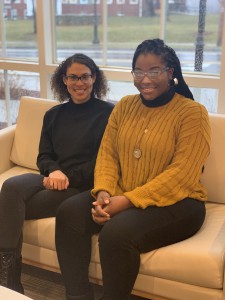 Both Sachelle and Lynn are members of class of 2020. Sachelle, who is originally from Worcester, Massachusetts is majoring in General Business. When asking Sachelle about what motivated her to apply for the position, she wrote "I am a member of the Institute for Women's Leadership Student Panel, the Hospitality Club, and the Secretary of the International Affairs Organization. I applied to be an intern for the Empowering Women in Business Conference because I wanted to learn backstage what it's like to plan an event, as well as execute it, but also be a part of an amazing conference that shows women (and men) how empowering women can be in many ways. This is a great opportunity and one that I would not pass out on."
Originally from Port-au-Prince, Haiti, Lynn Thibault is a majoring in Marketing at Nichols, and joins the team as the marketing intern for this year's conference. Lynn is currently a Student Ambassador for the Office of Admissions, a Peer Mentor in the NEXT Student Support Program, and a Panel Member of the Institute for Women's Leadership.
Lynn shares that she applied for this internship because "When I volunteered at the conference during my freshmen year at Nichols, I found that it was an event that was very inspiring and necessary in our community. This conference essentially creates a sisterhood, allowing women to connect with, support and empower one another, and I have witnessed the great things that can happen when women come together and uplift each other. This conference also cultivates a learning environment where female business-owners can learn how to not only thrive in their businesses and professional endeavors, but also navigate their personal lives. All in all, this event equips well-rounded entrepreneurs with all the tools and connections that they need to succeed in the business world. This is something that I just had to be a part of, and I am very excited to join the team!"
This year's conference takes place on Thursday, April 4, 2019 from 12:45- 6pm. Not only does the event provide great opportunities to hear from successful business leaders, but attendees will also have time to shop with local vendors and network. The Institute for Women's Leadership and the Conference Committee is also excited to announce that this year's Keynote Speaker is Mary Carlomagno, a best-selling author, organizer, and spokesperson specializing in helping individuals embrace simplicity and organize their everyday lives to better achieve balance and live stress free. For more information or to purchase tickets to the conference visit https://www.empowering-women.biz/ or contact Rachel Ferreira at Rachel.ferreira@nichols.edu.