By Victoria Palkon '24
Kaylin Goncalves '19 is currently the director of marketing for The Needle Group, a real estate company, where she reports directly to the (female) CEO. With her entrepreneurial background, Kaylin does all things marketing for The Needle Group: digital and traditional content, vendor relations, events and open houses, and more. She enjoys that every day is a little different, saying, "It really depends what gets thrown our way. It's very variable depending on how many listings we have." In her spare time, she is also part of a start-up called Hoamsy, an online platform that would match young professionals and students to apartments and roommates. She and the two other co-founders have raised $25,000 towards their goal of $50,000 in order to bring the business to fruition.
While at Nichols, Kaylin was a peer tutor in the Academic Resource Center, played on the soccer team, and was a part of Student Athlete Advisory Council, president of the International Business Club, and on Model UN. In addition, she was a Research Associate for Assistant Professor Karol Gil-Vasquez which she says was one of the biggest influences on her. "The internship was about African immigrants. We traveled to Morocco to present that paper together and I think that was definitely the most rewarding experience that I've been on," she says. "I didn't think that I would be that emotionally attached to people that I don't know. We interviewed strangers. It almost feels like you can understand their pain based on the stories… It was something I found very interesting and very humbling."
After graduating from Nichols with her BSBA in international business, Kaylin went right into graduate school, focusing on management and entrepreneurship. She received her master's degree from Babson College last year, which means she was job hunting amid the pandemic. Although it was a challenging time, Kaylin tried to find the right fit. "I turned down a job because when I walked into the office, the only other female there was the secretary. When you don't see yourself represented in an office it is unsettling," she says. After completing a marketing internship, she realized she truly enjoyed doing marketing, finding a fit both for her interests and as a woman at The Needle Group.
Turning to the organizational workplace, Kaylin asserts that, "the best teams are diverse teams. The more different minds you have working together, thinking about an idea or project, the more ideas and visions you have to work from and learn from." She believes that "organizations need to make a connection with their community. Sometimes companies don't know their demographic enough to understand who they're serving with either their products or their services, and that is because they don't have the people they are selling to represented at their company."
When asked to provide advice to Nichols students, Kaylin suggests, "Reflect on yourself, know what you want, and don't let everybody else around you cloud your judgment. Most of the time, I think your instinct usually is right and if it's not, you learn from it, and I think that's sort of part of the process. Being able to make your own decisions is huge for anybody, you need to take chances, you need to make those decisions and sometimes you need to fail or mess up because that's where you learn the most."
This interview is part of a series focused on women's leadership, conducted by Research Associate Interns Victoria Palkon '24 and Madison Perrotti '23. As part of their Spring 2021 internship, the students assisted Prof. Jean Beaupre research and develop the 2021 Massachusetts Women's Leadership Index.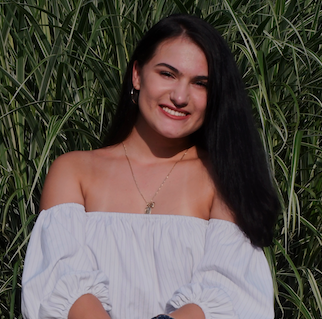 Victoria is a rising sophomore concentrating in International Business with a minor in Management. In addition to being a panelist for the Institute for Women's Leadership, she is a member of the Nichols varsity tennis team and is active in her community. She works part-time in a nursing home and in the Conant Library on campus. She is honored to be a research assistant on this project and is looking forward to continuing her education at Nichols College.