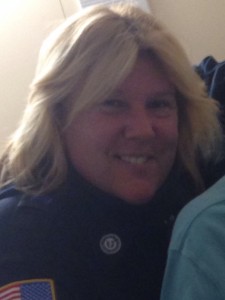 Jessica Schedin is a Sergeant in the Massachusetts Department of Correction, and is the 2013-14 Criminal  Justice Mentor-in-Residence at Nichols College – offering insight, inspiration, guidance, and mentoring to our female hospitality majors and minors.
What are the primary responsibilities of your position?
I deal with Security Staff, Civilian Staff and inmates every day. I am currently the Work/Cell Assignment Sergeant which involves the hiring of inmates for various jobs within the prison and handling the weekly Payroll and the Earned Goodtime monthly, and any issues they may be having. I also handle the cell/bed assignments in the prison which involves appropriate cell matching for the inmates taking into consideration their crimes, race, gang affiliations, stature, and behavior in prison, etc. Handling any conflicts are also my responsibility. I must always be thinking about the safety and security of the prison, staff and inmates.
How do you think being a woman impacts your leadership style?
I wouldn't say that being a woman impacts my style. I'm strong and confident. That comes from knowing who I am and what I am capable of. Being aware of my strengths and weaknesses has more of an impact on my leadership style than being a woman does. I'm a confident leader who happens to be a woman.
Were there any important mentors or influencers in your life that led you to your current position?
I think the best mentor I had was my mother. I know that sounds cliché but I always saw her as a very confident and independent woman. She didn't necessarily lead me to Law Enforcement, but she instilled in me that I could do whatever I wanted to do. So being a female in this field wasn't something I thought I couldn't do.
What advice would you give a young woman starting out in her career?
Be patient with yourself. Do not compare yourself with other people. You cannot expect to know or learn everything instantly. Give yourself time to learn and even make mistakes. You will find that you will learn a lot about yourself if you take your time.
What is one characteristic that you believe every leader should possess?
CONFIDENCE. If you do not have confidence in yourself, you will have a difficult time getting those that you are responsible for or trying to lead to feel confident in what you are asking of them. If the people I work with are not confident in my ability to handle any situation, I cannot be an effective leader.
What is one mistake you frequently witness female leaders making?
Worrying about being popular and not making people mad and having them dislike them. I have seen women in leadership roles worry more about making "friends" with those they are supposed to be supervising. As a leader, you must make decisions and these decisions can, at times, be unpopular. You must be able to effectively lead by doing what you think is best and not what others think you should do. I'm not saying that you should not listen to what others think, and take into consideration how they feel, but in the end you must be strong — make decisions and stand by them.
What advice would you give a woman going into a leadership position for the first time?
Know what you want and go after it. Do not let others tell you that you shouldn't do something, or that you cannot because you are a woman. But remember if you do fall, get back up and keep trying. Do not be afraid to ask for help or guidance. That's smart not weak. What are you doing to ensure you continue to grow and develop as a leader? I am always learning, growing. Education and training are very important to effective leadership. Staying motivated, never stop trying to better yourself.
How do you go about making decisions?
When it comes to my current position, my decision making process varies daily. The information I need to make a decision is not always the same. I am dealing with a very diverse population. At times I can make my own decision, and for others I find it necessary to gather information from other sources. I feel that being a good leader is a willingness to involve others. I'm a member of a team.