Written by Leslee Ruggeri, Director, SWE Institute for Women's Leadership, Kaitlin Baca '26 and Keeley Cerbo '24
Women's history month offers a special opportunity to appreciate women's perspectives, voices, and accomplishments, as well as a reminder to celebrate them all year long. In this blog post, we feature the perspectives of two women students, Kaitlin and Keeley, on what it's like to be a woman on the Nichols College campus, and asked them to help us compose this blog post:
Freshman year is challenging, no matter what school you attend. Adapting to a new environment, making new friends, eating new food, navigating new professors and new classes makes the challenges seem insurmountable. And while it is true that the male-to-female ratio at Nichols swings predominantly male, new and current women students on campus could see the disproportion as just another sizeable challenge. However, the sentiment from some of our women students is to embrace it and turn what could be an obstacle into a tremendous opportunity.  
When Kaitlin Baca '26 arrived on campus in the Fall, she felt that being a woman on campus might be one of the biggest challenges she would face her freshman year. She quickly decided she had two options: either feel empowered to do greater things to enhance herself for her future career in business or let herself be clouded by the majority, or the predominantly-male population. Kaitlin always liked to stand out and rise above obstacles, so she stepped up to the challenge and ran for Freshman Class President. Her campaign led her to meet many people in the class of 2026, as she needed 100 signatures to support her candidacy. She ended up winning the election with most of her supporters being male. Likewise, two other women students in the class of 2026 won executive positions, and now her class senate has the most women executive board members out of all the class senates. Similarly, Kaitlin sees that President Sulmasy is holding the promise of growing the female population and becoming the business school of choice for women in Massachusetts and beyond, and she views this as an opportunity to contribute on this front. This is why Kaitlin volunteered at the February 12th Women Mean Business Brunch, coordinated by Katie Laquidara in the Admissions Office, to help give prospective women a peek into the life of a Nichols College women student. Programs and events like these are rapidly changing the trajectory of what the student population will look like in a few years, and it makes Kaitlin happy she chose Nichols College.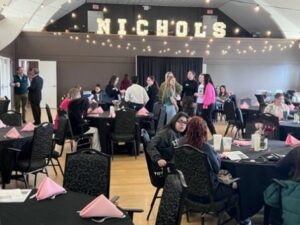 (Pictured: Women Mean Business Brunch event, held to introduce prospective women students to Nichols College.)
Keeley Ceerbo '24, a junior, believes that being a woman at Nichols has been rewarding for her. Even though there are more men on campus, Keeley says, "women have broken many barriers here, whether in classes, athletics, or programs here on campus. Women take key leadership roles, set records in sports, and overall get better grades than their male counterparts." Keeley is involved in many programs on campus that help her develop her leadership role as a woman. She is currently taking the class "How Women Lead" in which she is learning how to develop her skills and abilities to become a more effective leader when she enters the business world. Keeley also takes part in activities and events that are sponsored by the Institute for Women's Leadership and participates in the Women in Nichols mentorship program, which pairs women leaders with established careers with women students looking for mentorship and advice. Keeley states, "I think it is amazing how Nichols is trying to incorporate anything they can to make sure women feel involved and appreciated on campus! This is a big step forward, and is important when recruiting more women to the school as well, in my opinion."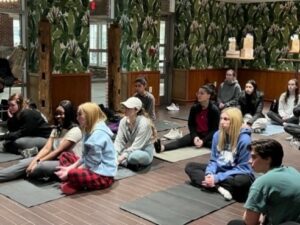 (Pictured: IWL women's leadership event with guest speaker Rebekah Salamack, Owner of Haven yoga studio in Sturbridge, MA)